RSQ Annual Show:
Special Information for Members
Quilt Registration
Quilt registration for 2023 has now closed.
See the list of registered quilts
What members need to know
All members should volunteer at our show

Each member of Rising Star is expected to work at least one shift at the show, even if you're not displaying a quilt.
Feel free to volunteer more if you have the time.
If you have a quilt in the show you can select your time on one, but only one, of your quilt registrations.
Can't work the days of the show? There are jobs that happen before the show. Just ask!
Email the Volunteer Coordinator for questions or to select a time to volunteer.

You must be a member to enter items in the show

Each person who displays a quilt in the show must be a member of the Rising Star Quilters Guild
Each person must have paid their dues for the 2023-2024 year.
If you haven't paid yet, please go here membership/renewal forms. Entries will not be accepted if dues are unpaid.
For questions about your membership status please contact the Membership Committee.

Number of entries per member

Any member may have up to two (2) entries in the show plus one guild challenge quilt, and one other quilted art object or wearable item.
Further details about Bee quilts and Bee challenges below.

How to register quilts and quilted items

Enter each quilt on a separate registration form.
Questions about registration? Ask register@risingstarquilters.org

Preparing your quilts

All quilts displayed must be finished and quilted, labeled and prepared for hanging.

Sleeves

Large quilts must have a 4 1/2 inch sleeve sewn on the top of the back.
Small quilts need a sleeve if the quilt is 48 inches or wider.

Signature patch

A signature patch with the name of the quilt and your name must be sewn to the lower right corner (as you face the back of the quilt) on the back of all quilts.

Quilt sizes and categories:

Large quilts: perimeter is 241 or more
Small quilts: perimeter is up to 240
Guild challenge quilts: maximum perimeter is 120
Quilted apparel, or Fiber Art Objects: no minimum or maximum. If special equipment is needed for display, you must provide it.

Quilt check-in (drop off) and checkout (pick up)

Dates, times, and location

Quilts must be brought to Arlington Town Hall on Friday Oct. 13, 2023 between 8:30 am and 10:30 am.
The quilt(s) must be picked up on Sunday Oct. 15, 2023 by the owner or the owner's representative, between 5:15 and 6:15 p.m.
If you can't make the specified times, please ask a friend to drop off or pick your quilt(s).

Important check-in instructions

Each item must be brought in a separate paper or fabric bag with a flat bottom so it will stand up, and twine, string or fabric handles. Fold your quilt so the label shows at the top of the bag.
When you check in you will be given a pre-printed card for each of your quilts which must be used to pick up the quilt(s).

About bags

Note: Please do not use bags with paper handles as they are not strong enough for our purpose. Semi-fabric bags like grocery or event-freebie bags with a flat bottom will work. If you have a large or heavy quilt, please use a fabric or semi-fabric bag, as paper bags even with the proper handles are not sturdy enough to bear the quilt's weight.
At the check-in table, a tag with your name, name of quilt and entry number will be stapled to the outside of the bag. Each item will remain in its own bag until it is hung or positioned for display. After the show, each quilt or quilted item will be placed in its original bag and returned to the maker.

More questions?

For questions about checking in and checking out: checkin_checkout@risingstarquilters.org
2023 Challenge Quilt Theme: "Masterpieces"
Choose a work by a favorite artist and use it as inspiration for your piece of art. The maximum perimeter is 120 inches.
Boutique Guidelines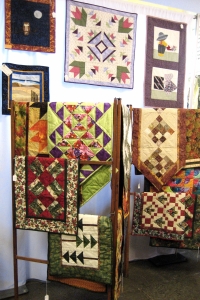 Part of our annual show is the boutique. The boutique allows RSQ members to sell their handcrafted items and at the same time is a fundraiser for the Guild. Sales will be split between the crafter (80%) and the Guild (20%), except for any donated items.
What may be sold: All types of items handcrafted by members.
What may not be sold: Fabric (yardage or scraps), thread, yarn, patterns, notions; or food.
While every reasonable effort will be made to ensure the safety of your merchandise, all items are placed in the boutique at the seller's risk, and Rising Star will not be responsible for loss or damage.
Each member who wishes to sell items in the boutique needs an ID number and has to fill out TWO inventory sheets.
ID numbers and inventory forms will be available starting at the April meeting or by emailing the boutique committee at boutique@risingstarquilters.org anytime.
You can also get inventory sheets here (pdf) and a printable copy of these guidelines here.
On the top of the inventory sheets, please fill in your ID number, name, and address in the spaces provided. Fill in the item number, how many of each item, a short description of each item, and the price.
The ID number, together with the item number of each piece, should be written on your price tags for each item. Example: Let's say my ID number is "22" and I make three different items for the show. These should be listed on the form as follows:
| Item no. | Quantity Made/Checked In | Description | Price/Item |
| --- | --- | --- | --- |
| 1. | 6 | Child's knitted hats | $20.00 |
| 2. | 3 | Tote bags | $35.00 |
| 3. | 6 | Pot holders | $5.00 |
On the price tags for the hats I would write "22/1 $20.00." For the totes "22/2 $35.00," and so forth. No untagged items can be accepted!
Bring your priced items together with TWO copies of your filled-out inventory sheets when you check in at the boutique. One of the inventory sheets remains in the boutique book, while the other is given back to the contributor. You have to bring your copy at pickup at the end of the show!
Vendors will be allowed table space of approximately 2 ft. x the depth of the table (this might vary based on the number of registered vendors). You are encouraged to bring organizing containers, baskets, and/or tabletop shelves for your items so you can maximize the available space. Please plan on setting up your own display after being checked in.
Boutique 2023 Check-in and Check-Out
Check-in to the boutique will be on Friday morning between 8:30 am and 10:30 am. You (or your representative) will bring your tagged items, and 2 copies of your completed inventory sheet over to the boutique area. A boutique volunteer will go over your items and inventory sheet with you to confirm that everything is properly tagged, and accounted for on your inventory sheet.
We will put one copy of your inventory sheet into the boutique book.
You will keep a copy of your inventory sheet and bring it with you to pick up any unsold merchandise on Sunday.
To help speed check-in, please organize your items by categories, and make sure every item has a legible, correctly marked sales tag. Make sure that prices on tags match prices on inventory sheet. Make sure sales tags are pinned, stuck or tied on securely, so they won't come off. No item can be sold without a tag! If you have a display or other prop that goes along with your items, please label it with your name, and make a note of it on your inventory form.
The boutique will stay open until the end of the show on Sunday (4:00 pm). Unsold merchandise may be picked up starting at 4:45 pm.
Check-out will be like check-in.
Please bring your copy of inventory list to check-out. If you cannot be there, please ask someone to collect your items for you. Nothing can be taken away until it has been checked out.
Final accounting of what has been sold will be determined after the show. Payment will be made according to what was sold. Checks will be issued once final accounting has been done.
For questions about the boutique, contact the boutique committee. Go here for printable inventory sheets (pdf).
Raffle Quilt Information
For information on where to send tickets and checks and/or to ask for more tickets contact the Raffle Ticket Coordinator.
To download extra tickets yourself look here (pdf)
For information about this year's raffle quilt see the general show page.
Bake Shop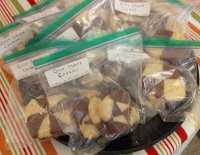 Besides providing a place to rest, socialize, and enjoy a snack, our cafe is another way we raise money to run our guild.
You can donate homemade baked goods (cakes, pies, yeast breads, coffee cakes, tea breads, muffins, cupcakes, brownies, cookies, etc.) We cannot sell anything that requires refrigeration.
Food donations may be dropped off at the show setup on Friday and during the morning on Saturday.
All donations must be individually packaged and labelled. Include info on allergens (nuts especially). Cookies and other small baked items should be wrapped 2-3 pieces per serving. Whole cakes and breads need to be wrapped and labelled.
Questions? Email baketable@risingstarquilters.org
Members' Frequently Asked Questions
Answers
Does my bee quilt count against my total?

Bee quilts do not count against a member's total. A bee quilt is a single quilt which was worked on by the members of a bee. Note that bee challenge quilts do not count against a member's total either. Bee challenge quilts would be a number of quilts made by bee members according to the bee's selected theme, typically one per bee member.

What if I don't finish my quilt?

You can un-register the quilt at any time by contacting the quilt show registration people at register@risingstarquilters.org. Please un-register it before the registration deadline if possible. We would like to know so we won't expect it at the show, don't have to print labels and can plan where the quilts will hang.

How do I sign up to volunteer if I'm not registering a quilt?
What can I do to help?

Sell raffle tickets: Every ticket sold funds our programming and speakers, so members are encouraged to buy and sell as many as possible. Tickets are available at guild meetings, and by contacting the raffle coordinator raffletickets@risingstarquilters.org. Or you can download extra tickets here. (pdf)
Make items for the boutique: You can sell items and make money at the boutique. You get 80% and the guild keeps 20%. We also love to have items whose proceeds are totally donated to the guild.
Volunteer for the show: We need help setting up on Friday, having people around during for various tasks - entrance fees, raffle tickets, white gloves, boutique, bake table, and tearing down the show on Sunday. Many hands make light work! Even if you don't have a quilt in the show, you are expected to volunteer for at at least one shift during the show. To sign up to volunteer you may also email the volunteer coordinator the time(s) you are available to work.
Bake table: Donations of baked goods are needed for the show.
Distribute our show flyer: print out the flyer and put it on local bulletin boards, in store windows, and anywhere else you can think of!

Contacts:
Kindly do not add any of our email addresses to mailing lists! First of all, it's wrong. Second, you'll get yourself in trouble if you get lots of unsubscribe requests from people who you added without permission. If you add people without their permission you are sending spam. If you don't ask first it's spam even if it's a quilting-related list!
Remember: The show cannot happen without your quilts and your participation!